Fakta om EFT
Emotionellt fokuserad parterapi (EFT) grundades på 1980-talet av Sue Johnsson och Les Greenberg.  Johnsson vidareutvecklade sedan metoden. Idag är hon professor i klinisk psykologi vid University of Ottawa och innehavare av en forskningsprofessur vid Alliant University i San Diego, Kalifornien.
Emotionellt fokuserad parterapi (EFT) har ett starkt vetenskapligt stöd och räknas som en av de parterapier med starkast empiriskt underlag (Stubb, 2005). Forskning visar att 90 procent av de par som gått i emotionellt fokuserad parterapi förbättrar sin relation avsevärt och att 70-73 procent av de par som är i kris tar sig ur den (Johnson, Hunsley, Greenberg & Schindler, 1999).
Idag är EFT starkt representerat i Nordamerika men även i länder som Japan och Nederländerna. Resten av världen börjar få upp ögonen för EFT eftersom den har en så hög frekvens av lyckade terapier och få återfall.
I Sverige är EFT än så länge okänd men det finns några verksamma terapeuter med klinisk erfarenhet av metoden.
EFT är en strukturerad korttidsterapi om 10 – 20 samtal, fler i vissa fall. Tillsammans arbetar sig terapeut och par igenom tre stadier och sammanlagt nio steg.
I emotionellt fokuserad parterapi (EFT) ligger fokus på samspel och hur båda bidrar till detta samspel. Det är hur de hamnar i destruktiva mönster som är i fokus, inte vem som har rätt eller fel. Paren får hjälp att bryta sina mönster och stöd att skapa trygghet och tillit i sin relation. Vägen till en djupare och helare relation går via att se både de egna behoven, och den andres.
Oftast är det en part som är på, och en som drar sig undan när ett par krisar. Många gånger är det mannen som drar sig undan och kvinnan som blir allt mer aktiv. Men EFT är en metod som får den mest tystlåtne att prata känslor. Och den som är mest på, att mjukna och bli mer mottaglig.
EFT är inte till för alla par. De som verkligen vill hitta tillbaka till varandra kan räkna med framgång. Metoden fungerar inte för par som "vill se om de ska skiljas" eller som vill få till en bra skilsmässa. Inte heller fungerar EFT på relationer där det förekommer våld eller missbruk.  Detta måste hanteras individuellt först.
Referenser
Greenberg, L. & Johnson, S. (1988). Emotionally focused therapy for couples. The Guilford Press : New York.
Johnson, S (2004). Creating connection : The practice of emotionally focused couple therapy. Bruner- Routledge : New York. Second Edition.
Johnson, S., Hunsley, J., Greenberg, L & Schindler, D. (1999). Emotionally focused couple therapy : Status & challenges ( a meta-analysis). Clinical Psychology : Science and Practice, 6. 67-79.
Stubb, S. (2005) "What the research tells us". I Harway, Michele (red) (2005). "Handbook of couple therapy". John Wiles & sons, Inc : New Jersey.
Länkar
www.drsuejohnson.com
www.iceeft.com
www.trieft.org
www.eft-sverige.se
Litteratur
"Håll om mig" av Sue Johnson. Utgiven på OrdGlob förlag 2012.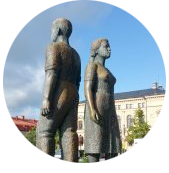 Fastnat i dåligt mönster?
Mina 10 bästa goda råd
när det inte är bra!
Läs listan som publicerades i Aftonbladet >>
Se råden som video >>